Product range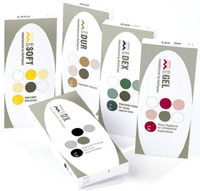 crm-DEX™
17mg/ml of hyaluronic acid and 25mg/ml of dextranomeres used for treating deep wrinkles and folds such as glabellar (frown), nasolabial (nose-to-mouth) and marionette (mouth-to-chin) lines, as well as lip augmentation.
1 x 1ml syringes with a 27 gauge needle.
crm-DX™
17mg/ml of hyaluronic acid and 50mg/ml of dextranomeres targeted at volume replacement for tissue augmentation of the cheek or facial contours.
1 x 1ml syringes with a 27 gauge needle.
As well as the hyaluronic acid base, both crm-DEX and crm-DX, designed for volume replacement, deep folds and facial contouring also contain dextranomeres (dextran molecules) at 25 and 50 mgs respectively. These are positively charged microspheres that aim to stimulate the tissue to produce new collagen and help the regeneration of the tissue in the area treated.
crm-GEL™
4mg/ml of pure hyaluronic acid and 16mg/ml of cross-linked hyaluronic acid used for medium to deep wrinkles and folds, plus lip augmentation.
1 x 1ml syringes with a 29 gauge needle.
crm-DUR™
14mg/ml of cross-linked hyaluronic acid designed to treat superficial lines and wrinkles such as those around the eyes and mouth.
1 x 1ml syringes with a 30 gauge needle.
crm-SOFT™
14mg/ml of hyaluronic acid aimed at biorejuvenation or skin rehydration of the face, neck, décolletage and backs of the hands using a mesotherapy technique.
1 x 1ml syringes with a 30 gauge needle.

Not to be used in
Individuals with a known hypersensitivity to hyaluronic acid or an auto-immune disease.

Pregnancy and breast feeding.
Patients who have a tendency to develop hypertrophic scars.
Duration of effect
This depends upon the degree of correction required, your age and lifestyle as well as the correct placement of the product by a practitioner.
According to the manufacturers hyaluronic acid only products (crm-GEL, crm-DUR and crm-SOFT) are expected to last between 4 to 9 months depending on the area treated and the specific product used. The two other products, crm-DX and crm-DEX which contain dextranomeres are said to last 12 -18 months.

Reported side effects

Transient erythema (redness), swelling, pain, itching, discolouration or tenderness at the implant site. Typically resolution is spontaneous, within one or two days after injection into the skin, and within a week after injection into the lips.
Any persistent reaction must be reported to your practitioner.

Localised reactions thought to be of a hypersensitivity nature have been reported.

In rare cases granuloma formation (which show up as red lumps underneath the skin and may be permanent) can occur.